Local Market Update - June 2023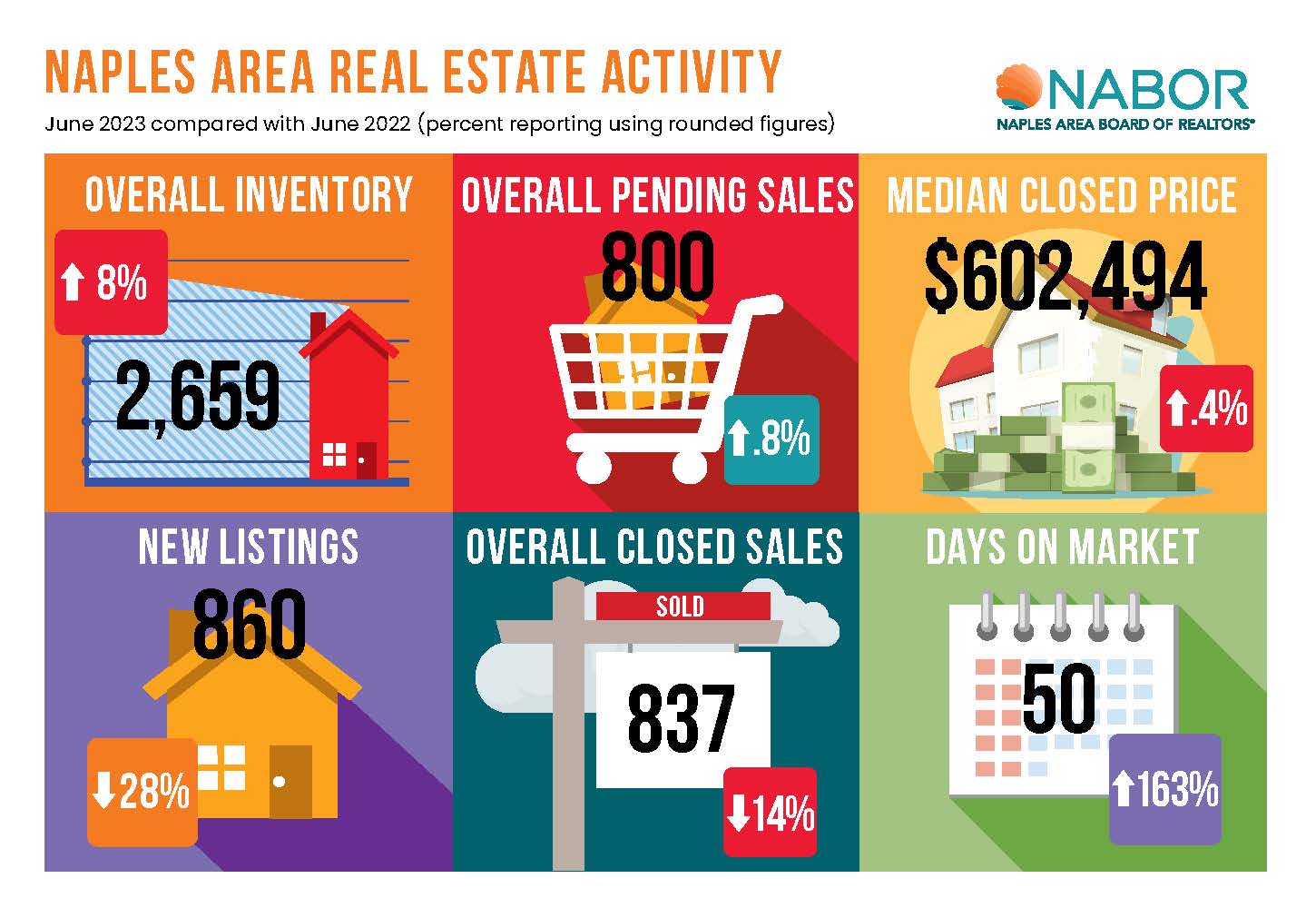 The June 2023 Market Report by the Naples Area Board of REALTORS® (NABOR®) has been reviewed by broker analysts, revealing several significant trends in the local real estate market. The reduction in home sales in Naples during June is attributed to a surge in summer travel. The report highlights a 13.6 percent decrease in overall closed sales for the month, totaling 837 closed sales compared to 969 closed sales in June 2022.
Despite the decline in closed sales, this dip is perceived as temporary, with indications that it may not extend into July's closed sales data. This optimism is supported by a 0.8 percent increase in overall pending sales (homes under contract) during June, rising from 794 pending sales in June 2022 to 800 pending sales. Additionally, the report notes that showings did not experience a significant double-digit drop as seen in previous months.
One positive aspect is that the slow sales in June did not have a negative impact on home prices. The median closed price for June exhibited a modest 0.4 percent increase, reaching $602,494, up from $600,000 in June 2022. However, the report does highlight a 2.9 percent decrease in the percent of list price received during June, falling to 96.2 percent from 99.1 percent in June 2022. This decrease is seen as an indication that more price negotiations are taking place in the market.
Overall inventory continued to rise compared to 2022 levels, with June experiencing an 8.2 percent increase in overall inventory, totaling 2,659 homes compared to 2,457 homes in June 2022. It's important to note that this increase in inventory is attributed to low sales for the month rather than new listings, which actually decreased by 28.2 percent to 860 new listings from 1,198 new listings in June 2022.
Broker experts emphasize that despite challenges like the pandemic and hurricanes, the monthly reports do not suggest an imminent market correction. Both median and average closed prices have remained stable, suggesting a level of resilience in the market. The market outlook remains cautiously optimistic, considering the potential for improved sales in the upcoming months.